The links below will help you find a wide variety of resources and services in our community.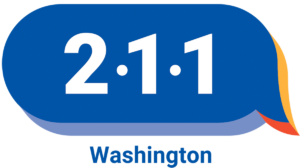 For even more resources, visit Washington's 2-1-1 website. 2-1-1 is a free confidential community service and your one-stop connection to the local services you need, from utility assistance, food, housing, health, child care, after school programs, elder care, crisis intervention and much more. 2-1-1 is always ready to assist you in finding the help you need. Dial the three digit number 2-1-1 on your phone or visit their website. If you are outside of Washington or have a problem dialing the number 2-1-1, please dial 1-877-211-9274.
Eviction Resolution Program
The Eviction Resolution Program at the Dispute Resolution Center of Thurston County (DRC) was created to resolve landlord and tenant disputes before they lead to court filings and evictions. The DRC is an independent, nonprofit organization that provides impartial mediation services to Thurston and Mason counties. Anyone, tenant or landlord, can contact the Dispute Resolution Center at 360.956.1155 to participate in the program, at no cost. For assistance in Spanish, call 360-956-1155 Ext. 150 or email ahunt@mediatethurston.org.
For more information, click Eviction Resolution (mediatethurston.org)