The Housing Authority of Thurston County is governed by a six member Board of Commissioners.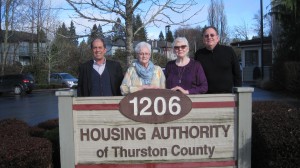 Board Members
Neil McClanahan – Chair
Commissioner McClanahan  has helped establish social services organizations, served on a multitude of agency boards, and has served as a city council member.  At the time of his retirement as Thurston County Undersheriff, he was the most decorated law enforcement officer in the county.
Mauren McLemore - Vice Chair
Commissioner McLemore retired from a leadership position at Community Youth Services, an agency that works closely with HATC. In addition to administrative skills, she provides important insights and passion surrounding the housing and service needs of our community's young adults.
Jay Goldstein – Commissioner
Commissioner Goldstein's background includes attorney, business owner, and service on other boards. He has considerable professional real estate law experience, including law relating to real estate acquisition and development.
Joelene Gioulis - Commissioner
Commissioner Giolis is the Administrator of a multi-location Thurston County health care provider Earlier in her career she held an administrative position with the Department of Corrections. Her background in both of these areas is meaningful in overseeing programs for our clients.
Vag Mayi – Commissioner
Commissioner Mayi has held positions in consumer financial services and substance abuse counseling. She has also served as a Trustee for The Evergreen State College.
Holly Franco - Commissioner
Commissioner Franco is a professional educator. She presently works for the Thurston County Food Bank where she provides their clients with nutritional education. As a single mother of young children also provides that important perspective.
Executive Director: Craig Chance
Board Meetings
Board meetings are generally held at Noon on the fourth Thursday of every month, with the exception of August (typically no meeting), November (no meeting) and December (earlier in month). Please see Announcements for Board meeting notices. All meetings are open to the public. The meetings are held in our main conference room at our administrative offices located at 1206 12th Ave SE, Olympia, WA.